People-to-People Cultural Exchange with Cuba Cultural Travel
November 4-11, 2013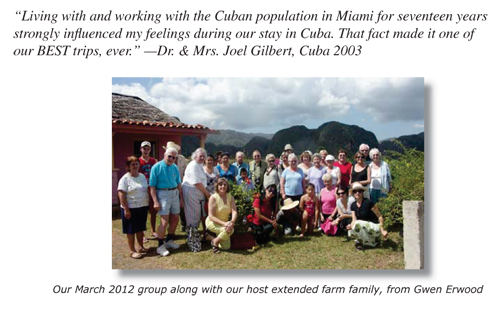 View pictures from our past tour, March 2 - 9, 2013 Click Here
There are people to people trips that meet with just anyone. Ours has prominent artists and leaders in their field, architects, musicians, dancers even a former ambassador and a filmmaker.
It is well worth the money. Anyone can see the old cars, but how many will go to a delectable dinner in one of the old convertibles roaring down the Prado?
Sunday, November 3
Participants will fly independently to Miami and congregate at the Crowne Plaza Hotel located near the airport. Information regarding reservations and group rates will be forthcoming. The hotel is located at 950 NW Le Jeune Road, Miami Beach, FL 33126 (305) 446-9000.

Day 1 Monday, November 4
8:30am Depart Hotel for Miami International Airport.
11:30am Depart Miami for Havana. Flight duration is 1 hour.
12:30pm Arrive Havana. Clear customs and immigration, a process that takes about 1 hour. Upon arriving in Havana, a representative will welcome the group and accompany us to lunch and then on to the Hotel Parque Central in Havana Vieja.
En route to lunch, we will stop by the Plaza de la Revolucion. The center of government, this area contains most of the offices of the main ministries and is often used for massive rallies, including that of the Pope last March.
2:00pm Lunch at El Aljibe. Cuban food at its best; the roasted chicken soaked in orange garlic sauce is a favorite, located in the Havana neighborhood of Miramar, home to many embassies and residences of foreign diplomats.
3:00 pm Coach tour of Havana, from Miramar along the Malecon to El Morro where we will make a quick stop to see the Havana skyline and harbor.
4:00pm Check into Hotel Parque Central, considered the finest hotel in Havana and perfectly
located in the central part of Havana. All rooms include a safe deposit box free of charge.
Breakfast is complimentary and served between 7:00 and 10:00 AM.
Hotel Parque Central *****
Neptuno, esquina Prado y Zulueta, Havana, Cuba, Havana 10100, Cuba Tel. 011-53 7 860 6627
4:00pm Meet in the lobby and walk across the street to Centro Asturianos for a demonstrative lecture on Cuban Music at Bar Asturias by Prof. Alberto Faya who has been working as a musician, professor and researcher within the Cuban musical world. He has obtained national awards due to their work in the field of music and musicology. He will be joined by a quartet of extraordinary young musicians who will take us on a musical journey thru the history of Cuba. This will be an interactive experience, with the audience encouraged to engage the lecturers and musicians.
7:30pm Depart for dinner at the famous La Guarida. One of the best restaurants in Havana and famous not only for its delectable dining, but also as the location for the film "Strawberry and Chocolate." It is housed on the third floor of a large, old town house carrying the charming ambience of the 1920s. (L,D)
Hotel Parque Central *****
Day 2 Tuesday, November 5
Complimentary breakfast is served at the restaurant in the hotel lobby level everyday from 7am-10am.
9:30am Congregate in hotel lobby. Today please wear comfortable walking shoes.
Walking tour of Havana Vieja. Our We will walk down Obispo Street, a pedestrian promenade, stopping at some of the most significant buildings like the Art Deco Style La Moderna Poesia, the Ambos Mundos Hotel, and the banks of the former Havana Wall Street.
Visit to Plaza de la Catedral and the Catedral de San Cristobal de La Habana. Visit the Plaza de Armas, a scenic tree-lined plaza formerly at the center of influence in Cuba. It is surrounded by many of the most historic structures in Havana as well as important monuments. Visit the Plaza de San Francisco, a cobbled plaza surrounded by buildings dating from the 18th Century, dominated by the baroque Iglesia & Convento de San Francisco dating from 1719.
Walk to Empedrado and meet Eduardo Javier Garcia, an up and coming young photographer. We will see some of his new work which is on exhibit in the gallery. From here we visit Plaza Vieja, the oldest plaza in Havana, dating from the 16th century. From there we move to the Plaza de San Francisco, a cobbled plaza surrounded by buildings dating from the 18th Century, dominated by the baroque Iglesia y Convento de San Francisco dating from 1719.
1:00pm Lunch at Hostal Conde de Villanueva. This restaurant is located inside the hotel of the same name, a tastefully restored 18th-century mansion with rustic colonial charm and a beautiful courtyard. Here we will participate in a cigar rolling demonstration and for those who are interested we will learn how to properly light and smoke what is considered the finest tobacco in the world. Cuban rum and coffee are also offered on this menu.
Visit the Iglesia de la Merced (Church of Mercy) which dates back to 1637 when the "Monks of Mercy" began construction that would require over 100 years of effort. This magnificently ornate cathedral, cloaked in a patina of time, serves as potent reminder of the immense influence the church once held in Cuba. Return to Hotel.
Dinner on your own. Perhaps this evening you will try Las Terrazas restaurant. Enjoy the view from the 3rd floor covered terrace of this casual restaurant specializing in various meats and seafood that are grilled on an open flame. Or you may want to try the new restaurant La Xana with menus created by Chef Pepe. Both restaurants are located in the Center Asturianos across from the Hotel. (B,L)
Hotel Parque Central *****
Day 3 Wednesday, November 6
9:30am Group meets in hotel lobby and boards our coach. We will meet with the Director at the Escuela de Taller where we will learn about the Restoration Project that is underway in Havana Vieja. This urban rehabilitation project is preserving the architectural history and cultural heritage of this beautiful city. We will visit a construction site and meet with engineers, builders, woodworkers and other craftsman utilizing traditional handcrafting methods to preserve the authenticity of these once – and soon to be once again - resplendent structures. Faced with challenges such as lack of materials, tools, equipment and even vehicular access to some of these sites, these monumental projects are a testament to the indomitable Cuban spirit to succeed in the face of adversity.
Board our coach for our first trip to the private and independent produce vendors at the Mercado Quatro Caminos (Four Roads Market). While the Cuban government controls nearly every element of commerce in the country, these vendors are part of a new generation of private entrepreneurs. The market has many organic fruits, vegetables and meats that are grown and subsequently transported from the countryside into Havana.
Cubans rely on these marketplaces to supplement the monthly food rations they receive from the State and as well as those items that are not readily available in State run ration stores.
12:30pm Enjoy a traditional Cuban lunch overlooking the Straits of Florida, at La Barraca restaurant at the historic Hotel Nacional de Cuba. Sit under the palapas, feel the ocean air and dine on traditional Cuban fare.
2:00pm Board our coach for a tour of Modern Architecture in Western Havana. Few people realize
the important place Havana holds as a treasure trove of 20th Century architecture. Our guide will be will the master of all architectural tours, Mr. Eduardo Luis Rodriguez, author of The Havana Guide: Modern Architecture 1925-1965. Our tour will highlight some of the best examples to be found in this incredibly diverse area of the city where some of its most fascinating buildings were built using different architectural styles.
Walk through the Christopher Colon Cemetery. This elaborate necropolis covers nearly 8% of the City of Havana, and contains and endless sea of poignant memorials, architectural jewels and human interest stories.
3:30pm Visit to Centro Prodanza – The remarkable dance company is the passion project of Grand maître Laura Alonso, daughter of the famous ballerina and choreographer Alicia Alonso. Her school, located on the outskirts of Havana provides training for all levels of students as well as her highly regarded professional troupe. We will be met by school officials and instructors to learn how the program structure and scientific methodology help dancers reach their professional goals. This organization happily accepts donations of ballet slippers and dancewear.
Return to the Hotel. 7:30pm Meet in the hotel lobby and depart for dinner at Paladar Le Chansonnier one of the most progressive and stylish restaurants in Havana. We will travel to the restaurant in classic 1950's era American convertible taxis that, despite being cut off from factory support for 50 years, remain the most prevalent automobiles seen on the streets and roadways of Cuba. (B,L,D)
Hotel Parque Central *****
Day 4 Thursday, November 7
9:00am Group meets in the hotel lobby.
9:30am Walk across the street from the hotel to attend a private dance performance of the Compania Irene Rodriguez. We will receive a warm welcome by Irene Rodriguez and her company at the Centro Andaluz. Irene is considered by many to be the finest flamenco dancer in Cuba. Irene will introduce the dancers, many of whom speak English; describe the history of her own dance career and formation of her independent dance company; and discuss the cultivation of artistic talent in Cuba, opportunities and challenges of being a professional dancer, and the arts more generally in Cuba. The individual Cuban dancers will then tell their own stories, giving us a glimpse of life as a dancer in Cuba.
11:00am Visit the Museum of Cuban Art led by art historian Nelson Herrera. The museum is dedicated exclusively to Cuban Art, and our tour will take a chronological path from the earliest days of colonialism to the latest generation of Cuban artists.
1:00pm Cuban cuisine cooking lesson with the Chef de Cuisine in the professional kitchens at the Hotel Parque Central. We will learn about traditional cooking methods and enjoy our lunch after our lesson. Cuban cuisine is a fusion of Spanish, African, and Caribbean cuisine. Cuban recipes share spices and techniques with Spanish and African cooking, with some Caribbean influence in spice and flavor. This results in a unique, interesting and flavorful blend of the several different cultural influences.
3:00pm Visit Callejon de Hamel located in the Cayo Hueso neighborhood. The buildings have been decorated with colorful murals that celebrate Cuba's African cultural roots and religious roots. Our host and guide will be Cuban scholar Elias Aseff, who will explain the role of African religion and culture in Cuba and the importance of Santeria in everyday life. He will also explain how Afro Cuban religion has influenced the evolution of Cuban culture.
A short walk away from Parque Trillo is the home of a Babalao, (Yoruba Priestess) who will receive the group and explain via Elias the religious deities and elaborate alters in her home. The home is very large and many visitors pass thru during the day to give offerings.
4:30pm Visit to Lázaro Salsita's Moviemento Forestal & Children's Art Project. Lázaro Salsita a Cuban sculptor who creates art using recycled newspapers to sculpt in papier mache oftentimes incorporated with found of objects. In his children's workshops they create "papeleros" are meant to educate and teach others about human and social conviction while providing a creative outlet for participants. We will have a chance to meet with the artist and his students.
Return to Hotel. Dinner on your own. Tonight you may choose to dine at El Templete. This seaside restaurant looks over the harbor and is known for its eclectic international menu and fresh seafood. (B,L)
Hotel Parque Central *****
Day 5 Friday, November 8
9:00am Meet in the Hotel lobby and board coach for our day trip to Viñales Valley. Considered by many to be the most beautiful place in Cuba, the Viñales Valley National Monument holds stunning landscapes and jaw dropping vistas. The area is also famous for being the premier tobacco growing area in the world. This is a photographer's paradise!
12:00pm Visit the home of Ramón Vázquez León, an artist born in Viñales, Pinar del Río, who graduated from the National School of Fine Arts in Havana. Ramon creates fantastic worlds full of allusions with his bright colors.
We will continue for our lunch at the private farm Finca Confianza. The family has reclaimed what was unusable land and created a terraced farm with stunning views of the Mogotes and the Valley. We will enjoy organic fresh fruits, vegetables and meats prepared in a variety of different ways and learn about the production of a multitude of fruits, vegetables.
3:00pm After lunch, we will visit a small country town where a remarkable man named Mario Pelegrin has created a charming community project dedicated to local children. In this tranquil setting, a collection of rustic cabins provide a home for amateur art programs.
Local children are provided with the space and resources needed to allow their creative juices to flow in the areas of music, dance, theatre and art. This wonderful program gives local kids the opportunity to have fun while learning new skills. Return to Havana. Dinner on your own. (B,L)
Hotel Parque Central *****
Day 6 Saturday, November 9
10:00am Lecture with Dr. Marcelino Feal on the history of Cuban cinema, cabaret, comedy, radio, theater and television. Dr. Feal is Professor of General Surgery at the University Hospital Calixto García. Dr. Feal is also a member of the Cuban Artists and Writers Union and is published extensively on subjects as diverse as medicine, cinema and literature. This presentation will take place in a conference room located in the Parque Central.
12:00pm Board our coach and drive to the picturesque fishing village of Cojimar. Ernest Hemingway loved this little town. He kept his boat, El Pilar, in harbor of Cojimar, and he used this village setting for his story The Old Man and the Sea, which won him the Nobel Prize for Literature in 1954.
Lunch at La Terraza de Cojimar. La Terraza was originally the village fish market where boats unloaded the day's catch to be packaged and sent to Havana. After Hemingway died, it molted into a seafood restaurant. 2:00pm Visit the La Finca Vigía. Formerly the home of Ernest Hemingway, today it still houses his expansive collection of books. It was here where he wrote two of his most celebrated novels: For Whom the Bell Tolls and The Old Man and the Sea. Please keep in mind that there are restrictions on passage to preserve the house in the intact state that Hemingway left it.
Return to Havana and stop at the Arts and crafts market, a great place to interact with local, everyday artisans. You'll find just about anything here, a great place to find souvenirs or gifts for your friends and family back home. Return to Hotel. Dinner on your own.
This evening you may choose to venture on your own for to Bar Floridita in Havana Vieja - a short and easy stroll from the Hotel. This popular tourist destination and hangout of Hemingway offers the legendary Daquiri, live music and a life size bronze of a smiling Hemingway leaning against the bar – a great photo opportunity. This bar is often crowded so please be prepared to jostle for a place to sit. (B,L)
Hotel Parque Central *****
Day 7 Sunday, November 10
10:00am Lecture by Prof. Carlos Alzugaray Treto on U.S./Cuba Relations. Professor Alzugaray was the Former Cuban Ambassador to the European Union and former Director of the Institute of Foreign Relations. Professor Alzugaray will be accompanied by several English speaking students from Institute of Foreign Relations. Professor Alzugaray will then lead a question and answer session with the group and we have time for open dialogue and exchange. This presentation will take place in a conference room in the Parque Central.
12:00pm Board coach and depart for our short trip west of Havana. 1:00pm We will have lunch at the whimsical home of artist Jose Fuster who has made major contributions to rebuilding and decorating the fishing town of Jaimanitas. Located on the outskirts of Havana we will tour his home and studio. Jaimanitas is now a unique work of public art where Fuster has decorated over 80 houses with colorful ornate murals and domes. Jose and his son Alex have invited friends and neighbors to share and discuss the public art projects and the impact on Jaimanitas and beyond.
On our return to the hotel we will drive by the Instituto Superior de Arte (ISA). One of the few major architectural projects completed in Cuba in the early 1960s, this remarkable post-revolution campus is the premier school in Cuba for students studying music, visual arts and performing arts.
Return to the hotel. 7:30pm Meet in the hotel lobby for our farewell dinner at San Cristobal Paladar. About a 10-minute walk from Parque Central, this cozy paladar has a reputation of excellence in both atmosphere and local cuisine. The food is refined and balanced and the nostalgic atmosphere is unforgettable, adorned in a unique style of art nouveau. (B,L,D)
Hotel Parque Central *****
Day 8 Monday, November 11 Departure Day
10:30pm Check-out of the hotel. Depart for Havana airport.
1:30pm Depart Havana for Miami on ABC Charter Flight
2:30pm Arrive Miami. Clear customs and catch any connecting flights you may have.
*Tips may be given to your Cuban guide and driver at this time. The recommended tip is 5CUC per day, per passenger for your guide and 3CUC per day, per passenger for your driver.
BE SURE TO COLLECT YOUR BELONGINGS FROM THE SAFE DEPOSIT BOX IN YOUR ROOM
For those who are staying overnight rooms have been blocked for you at the Crowne Plaza Hotel. The hotel is located at 950 NW Le Jeune Road, Miami Beach, FL 33126 (305) 446-9000. Information regarding reservations and group rates will be forthcoming.

*Please Note: This is a "Working" Itinerary. There may be some changes, additions and/or subtractions to the Final Itinerary. All venues and artist's studios are subject to final confirmations. Be assured that any changes made will be done to enhance the total program, and to promote a smooth operation of the tour.
PRICE based on a minimum of 16, max 20 plus group leader
Participants will be charged:
$ 3,910.00 Double occupancy, per person
$ 4,360.00 Single occupancy
INCLUDED
7 nights' accommodation at Hotel Parque Central.

Daily breakfast.

7 lunches and 3 dinners.

English speaking tour guide

Air conditioned coach throughout the trip equipped with cold water at all times.

Airports transfers for arrival

Admission to all museums and public

Cuban Insurance (health and evacuation)

Cuban Visa

Compliance with US Treasury Department.

Speaker fees and conference room rental.

Round trip airfare from Miami to Havana

Tips on meals and porters
NOT INCLUDED
Airline baggage fees

Meals other than listed on itinerary.

Tips / Gratuities of tour guides

Individual hotel expenses (mini bar, room service, laundry fees, etc).

Cuban Airport Departure tax (25 CUC)
To hold your space for the November 4-11, 2013 People-to-People tour of Cuba. Please complete this form and return it to Gwen Erwood (address below) by, mail, fax or scanned copy. More details regarding trip documentation and payments will be provided upon receipt.

Name (s)

Mailing Address

Phone number home

cell

Email address

Room share with

Share request

Prefer single room
Gwen Erwood
5500 Bucks Bar Road
Placerville CA 95667
Tollfree in USA -1-800-762-4216
cell 1-530-409-7528 Fax 1-530-621-3007
gwen@serioustraveler.com